When it comes to luxury car rental in Milan, Elite Royal Cars stands out as the premier choice for discerning travelers who seek elegance, comfort, and impeccable service. Our commitment to providing the highest quality of service, paired with a fleet of prestigious vehicles, ensures that your journey through Milan and beyond is nothing short of extraordinary.
At Elite Royal Cars, we take great pride in offering an unparalleled level of service to our esteemed clients. From the moment you contact us to the end of your journey, our dedicated team is at your disposal, ready to cater to your every need. We prioritize your comfort, convenience, and satisfaction, striving to exceed your expectations with every interaction.
We understand the importance of a pristine travel experience. That's why every vehicle in our fleet is meticulously maintained and thoroughly cleaned before each journey. Step inside one of our luxurious cars, and you'll be greeted by a spotless interior that exudes refinement and luxury. We go the extra mile to ensure that your ride is as comfortable and enjoyable as possible.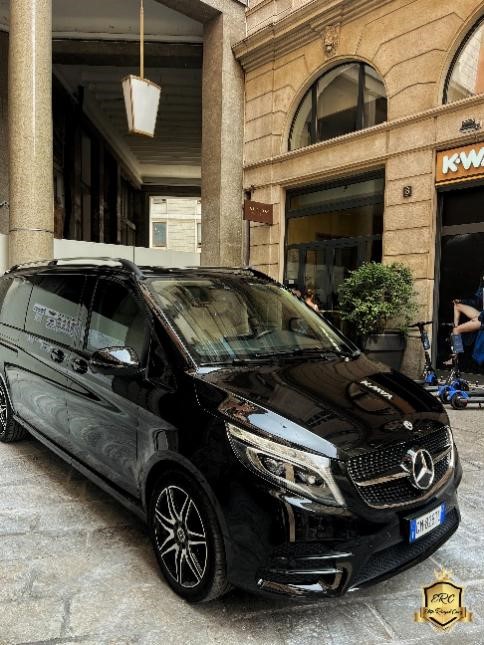 Transfers to Hotels, Restaurants, and Shopping Centers
Navigating through a new city can be a daunting task, but with our VIP chauffeur service, you can leave all the logistics to us. Whether you're arriving at Milan's airport or railway station, our experienced drivers will be there to welcome you and transport you to your desired destination with ease and efficiency.
Arriving at your hotel, you'll feel like royalty as you step out of one of our prestigious cars. Our chauffeurs are not just drivers; they are knowledgeable guides who can assist you with recommendations, local insights, and any other information you may need to make the most of your stay in Milan.
Want to indulge in the city's vibrant culinary scene? Our chauffeurs will be delighted to take you to the finest restaurants, where you can savor the delectable flavors of Italy in utmost style.
And if shopping is on your itinerary, rest assured that our chauffeurs will whisk you away to the most prestigious shopping centers, ensuring that you have a seamless and luxurious retail experience.
Beyond Milan: Exploring Italy with Elite Royal Cars
While Milan offers a myriad of attractions and experiences, Italy has so much more to offer. With Elite Royal Cars, your luxury journey extends beyond Milan's borders. Whether you wish to explore the picturesque shores of Lake Como, discover the romance of Venice, or immerse yourself in the cultural treasures of Florence, our VIP chauffeur service is at your disposal.
Book Your Luxury Experience Today
Indulge in the epitome of luxury car rental in Milan with Elite Royal Cars. From our pristine vehicles to our exceptional chauffeurs, every aspect of your journey is meticulously crafted to provide you with an unforgettable experience. Whether you're traveling for business or pleasure, let us elevate your travel experience and drive you in style through the charming streets of Milan and beyond.
Contact us today to book your VIP chauffeur service and embark on a luxurious journey with Elite Royal Cars. Drive in style and create memories that will last a lifetime.